Dom przysłupowy
IDEA
Is that 2+2 typical family? In our opinion in new millenium it's very difficult to use this word in modern architecture. The priority for us was to create in simply way a non-typical house for everybody without limits in age, number of people or type of generation. To achieve that we have been built a module (3.6×3.6×3.6m – cube, presented below) which became a base form for further design. Because we have never known a coming expectations of future family, we have decided to create the repetitious module with the most typical functions for the house. We have been divided modules into few groups like: living area, private area, extras, stairs. Modules and constant construction grid (3.6×3.6m) have been allowed to build a very simply system which gave to us unlimited possibilities in designing a house's evolution. That's major solution in connection with smart system construction allows for simply demolishion and extension in every life time depending on our need and family situation. In addition the repetitious eko-construction can be reused by others or resaled, a new dwelling can be moved or disposed. That's big worth in this day and age, especially if we do not know a future.
HALF-TIMBERED HOUSE – DESIGN
Rural tradition in connection with modern construction became of contemporary rural half-timbered house with ancillary building. When we have started designing the house we paid an attention to few characteristics: simplicity of form, well proportioned, balanced, quality in materials, solid, simple construction, absence of frills. Because we can use a lot of house's planes in the course of nature is obtaining two forms of main dwelling like:  single storey block with attic space and two storey block with attic space. The attic space can be unoccupied depending on person's number and required personal program.  For this worked example two storey block with unoccupied attic space have been picked up. Presented solution offers a fusion between the traditional and contemporary. Downstairs in main dwelling we have created living area with living room, family room, dining and kitchen and added extras like: bathroom and entrance lobby. Additonally in ancillary bulding we have put a garage and atelier i.e workshop for small business/art. studio or something simmilar. Of course the atelier can be changed for store, utility room, second garage or something else. A module's basket offers a variety of possibilities. Upstairs we have put 2 single bedrooms, big wardrobe connected to master bedroom, bathroom and laundry room with some space for ironig and hot press (water tank). Both storeys were connected by wooden, module staircase. All bulidings were covered by unoccupied attic space which can be transformed to living space or demolished at later stage depending on number of persons. An advantage of module's variety is total using area, matching to family's need, not to architect's design as we showed on generation of one family's sketch scheme.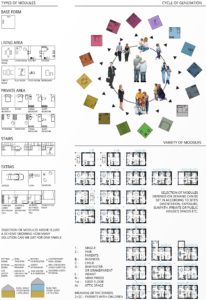 OPRACOWANIE
Architekt: Rafał Lipiński i Grzegorz Klich
International competition (konkurs architektoniczny)
TOTAL USING AREA:
Main dwelling - 195 m2
Ancillary building - 91 m2